Radiesse®, one of the most popular treatments at La Fontaine Aesthetics, which is commonly used to fill facial lines, such as the nasolabial fold (the line from the nose to the corner of the mouth), cheeks and jowls. In the non-surgical face lift, Dr. Oleszek uses Radiesse to fill the cheeks, which lifts and tightens the whole mid-face. The pre-jowl sulcus is also filled to reduce the appearance of jowls and the pointy chin, which is often called the Witch's Chin. Radiesse is able to be mixed with the numbing medicine, lidocaine, which decreases any discomfort during the procedure. Lasting around 1 year, Radiesse is a popular choice for patients at La Fontaine Aesthetics.
Liquid Face Lift
Radiesse® is a new generation filler, that uses calcium based microspheres to restore volume and fill in lines and wrinkles. Radiesse® is the filler of choice for a very popular new treatment- Cheek Enhancement. By adding Radiesse to the cheeks, we can lift the lower face and create those high model cheek bones that gives a youthful appearance. Radiesse lasts over 1 year and is also used to decrease facial lines such as the nasolabial folds (from the nose to the outside corner of the mouth) and marionette lines (from the corner of the mouth downwards). Radiesse is one of Dr. Oleszek's favorite fillers to use.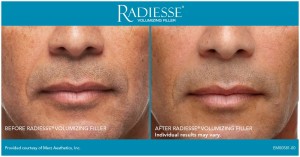 Hand Rejuvenation
As we age, our hands age as well, with a thinned appearance and the development of brown spots. Sun exposure and subcutaneous volume loss are the main contributors to this process. Fortunately, there are very effective treatments for hand rejuvenation.
The brown spots (also called age spots, liver spots or sun spots) can be treated with chemical peels, pulsed light (similar to the photofacial) or Laser skin resurfacing with Fractional Lux 1540. We use dermal fillers, such as Restylane or Sculptra or Radiesse, to restore that plump youthful appearance to the hands. Dr. Oleszek has a specialized treatment protocol for aged looking hands. Over several short appointments a significant improvement can be seen in 2 months. Most treatment programs cost around $2,000 dollars, but are individualized.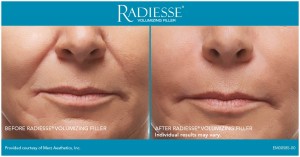 Static Wrinkles
Static wrinkles are lines that are not affected by facial expressions. As these lines deepen, they are then called 'folds.' Common areas are the nasolabial fold (from the nose to the corner of the mouth) and the marionette lines (the lines on the outside of the mouth downwards). Restylane, Radiesse and Sculptra are used most commonly to treat these lines.