The MiXto is a cutting-edge laser skin treatment that decreases sun damage, wrinkles, crepey skin, acne scars and tightens the skin, all with a more acceptable amount of downtime. Dr. Oleszek is one of the first in the country to offer this advanced micro-fractional CO2 laser treatment from Italy. A single treatment can offer more improvement than older technology, such as, 6 treatments of the Fraxel or Affirm and at less overall cost and downtime.

The MiXto works by delivering tiny beams (the size of a hair) to a fraction of the skin's surface. These beams of light energy will penetrate to the mid-level of the skin causing:
1) immediate shrinkage of the skin
2) softening of fine lines and wrinkles
3) removal of age and sun spots
4) improvement of sun damage and skin texture
5) new collagen production during the following 6 months.
Since only a fraction of the skin's surface is treated, islands of untreated skin will more quickly and safely heal after the treatment, compared to older technology.
Common areas treated by the MiXto SX laser include full face, around the eyes to tighten excess skin, around the mouth to smooth wrinkles, neck, chest and hands. Additionally, The MiXto SX is one of the most effective treatments for acne scars and scars on other parts of the body, including stretch marks.
This treatment can safely be performed in the medical suite at La Fontaine, with most people electing only for oral sedation and nerve blocks. Post procedure skin care will be required and will be reviewed at time of initial consultation and before leaving after the treatment. Patients usually feel fine after the first evening, yet may want to avoid work until their skin fully heals in 3 to 8 days, depending on the intensity of the treatment selected.
Acne Scars
Acne scars are a common problem we see at La Fontaine. We have multiple options for acne scar treatment. The DermaRoller treatment improves acne scars around 50% with minimal down-time. But it usually takes 6 treatments with a total cost of $1,200.
The most effective treatment for acne scars is the MiXto fractional CO2 laser. An improvement of 70% to 80% with only 1 to 2 treatments can be seen, but down-time lasts 5 to 12 days. For individual scars, subcision is an effective treatment. Subcision is often combined with the MiXto Fractional CO2 treatment.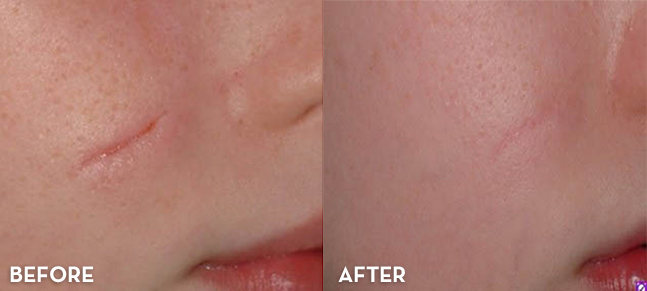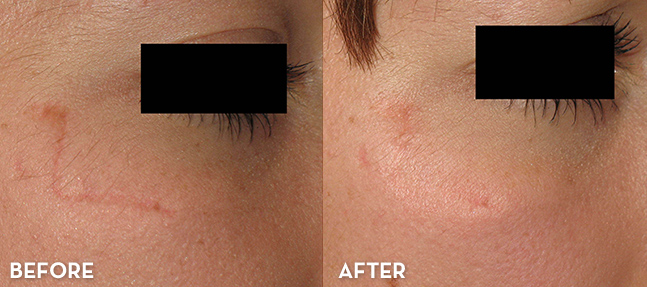 Crow's Feet Wrinkles
Laser Skin resurfacing with the Fractional Lux 1540 or the more intensive MiXto Fractional CO2 will take off the top layer of skin and allow fresh, less wrinkled skin regrow.

Upper Lip Wrinkles
Once upper lip wrinkles are very advanced, The MiXto fractional CO2 laser is used to resurface the lines away. Often, Botox and dermal fillers are used along with the MiXto laser skin resurfacing to maximize the results.
Skin Texture
Irregular skin texture or unevenness of the skin is often caused by blemishes, enlarged oil glands, enlarged pores and sun damage. The MiXto Fractional CO2 Laser treatment can offer dramatic improvement after only 1 or 2 sessions. This treatment is intensive and will require post-procedure skin care and 5-7 days of down-time.
Wrinkle Treatments
A regular program of chemical peels and microdermabrasion stimulates the skin to increase thickness, thus decreasing the appearance of lines. Dermal fillers, such as, Restylane can be used to stretch the skin and increase the underlying support of the skin. Sculptra adds volume to the skin and can reduce small smile lines and fine lines on the cheek. The most dramatic changes can be seen with Laser Skin Resurfacing. Fractional Lux 1540 has significant results after a series of 3 to 6 sessions with only minimal redness and swelling for 1 to 2 days after each treatment. The MiXto fractional CO2 can give dramatic results after 1 or 2 treatments. This treatment removes a fraction of the top layer of skin and allows the skin to tighten and regenerate a new less wrinkled appearance. The MiXto Fractional CO2 usually requires 5 to 7 days of post-procedure down-time.
Is MiXto Laser Skin Resurfacing the right treatment for you? We offer complimentary consultations, please call 303-355-4772