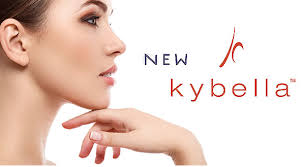 Say goodbye to double chins.
Kybella™ is a prescription medicine used to decrease under chin fat (or double chin), jowls and create a more defined jawline. The treatment involves several injections into the fatty area to be decreased. For patients who suffer from a double chin, this is a very exciting treatment with minimal downtime, no surgery and no incisions.
Is there any downtime?
There is usually swelling and some bruising for several days afterwards with the results seen at 1 to 2 months afterwards.
How many Kybella treatments do I need, and how often?
A series of 2 to 4 treatments are usually needed to see optimal results spaced about a month apart.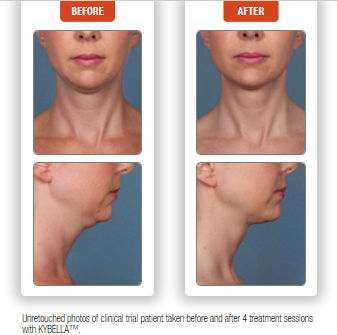 How does it work?
Kybella™ works by using a naturally-occurring molecule that breaks down fat. When injected into fat, Kybella™ causes the destruction of the fat cells. Once destroyed, those cells cannot return – So results are long lasting. Learn more about Kybella by clicking here.
Khloe Kardashian, a fan and user of Kybella has struggled with weight and the double chin.