The most popular dermal filler worldwide, Juvederm® is similar to Restylane® in that it is based on hyaluronic acid. It lasts about as long as Restylane (maybe a little longer) but is slightly more pliable or soft. This is Dr. Oleszek's most popular filler for plumping the lips.
La Fontaine Aesthetics is proud to be a preferred provider for the treatments of Juvederm® . Recently approved by the FDA, Juvederm® injectable gel is a "next-generation" dermal filler. The smooth consistency gel helps to instantly restore your skin's volume and smooth away facial wrinkles and folds, like your 'smile lines' or 'parentheses' (the creases that run from the bottom of your nose to the corners of your mouth).
What is Juvederm®?
Juvederm® is a smooth consistency gel made of cross-linked hyaluronic acid, a naturally occurring substance in your skin. Natural and biodegradable, Juvederm® is made from a non-animal source that results in a flowing and malleable gel. Juvederm® is softer and smoother than Restylane®. I like to use Juvederm® in the lips and the under-eye hollows, where as, Restylane® offers more support in the nasolabial folds and marionette lines.
Have you ever wondered how you would look with smoother skin, fuller cheeks or plumper lips? To see the amazing possibilities of JUVÉDERM®, simply use our revolutionary JUVÉDERM® Visualizer to create your own virtual Before & After pictures. Click HERE.
How Juvederm® works
Juvederm® injectable gel is a non-surgical, minimal downtime, physician -administered treatment for facial lines. A fine needle is used to place Juvederm® beneath the skin to add volume and diminish wrinkles. Results can be seen instantly and can last longer than 6 months. Common areas treated include the laugh lines (on the side of your mouth), the nasolabial lines (from nose to the side of your mouth) and the marionette lines (from the corners of your mouth downwards).
What is the treatment like?
Juvederm® is a non-surgical treatment, with minimal downtime. Most treatments are performed in the office and can last about 20 minutes. Pain is minimized with topical numbing cream or local anesthesia.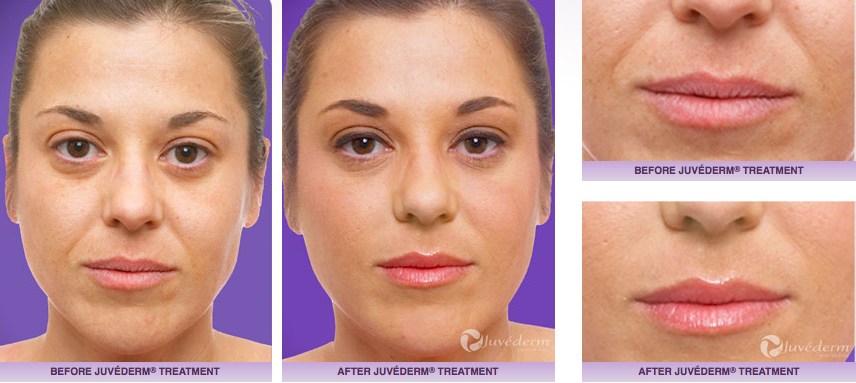 Lip Enhancement
Lip augmentation with dermal fillers is one of the most popular treatments at La Fontaine Aesthetics. Aging decreases the soft tissue of the lip, resulting in thin, less defined lips. Our goal at La Fontaine is to create a natural, sultry appearance to the lips. Dr. Oleszek uses Restylane or Juvederm to increase fullness to the the body of the lip. Enhancing the columns from the middle upper lip to the nose – creates a 'cupids bow' adding a sultry appearance.
Restylane or Juvederm is also used to support the sides of the mouth, softening the marrionette lines (lines from the corner of the mouth downwards) and taking away the down-turned appearance at the corners of the mouth.

Please contact us for a complimentary consultation and personalized treatment plan, 303-355-4772