It's here and we can't wait for you to try it! The HALO laser allows us to give a customizable treatment based on your skins unique needs and downtime desires. Halo is the worlds first hybrid fractional laser that uses dual wavelength technology. We can treat several issues with faster downtime including:
• Fine lines and wrinkles
• Pores
• Sun damage
• Hyperpigmentation
• Uneven skin tone and age spots
• Mild scars
How the HALO Hybrid Fractional Laser works
Since it is a dual fractional laser, it is both ablative and non-ablative wavelengths.
Ablative lasers are an effective way to remove the outer layers of damaged skin. While the skin is healing, this increases collagen production, making the skin tighter and rejuvenated.
A non-ablative laser delivers heat deep into the skin which eliminates old pigmented cells. Deposits that heat deep into the dermis tighten skin and stimulate collagen. The surrounding tissue is unaffected.
At La Fontaine Aesthetics, The Halo Hybrid Fractional Laser Focuses energy on the deeper collagen layer of skin leaving the surface of your skin largely in tact for a quicker healing time. We even
It delivers the results of an ablative procedure with little to no downtime, like a non-ablative treatment which is truly the best of both worlds!
This allows the skin to heal much faster. That healthy, tighter skin grows to replace damaged/wrinkled skin.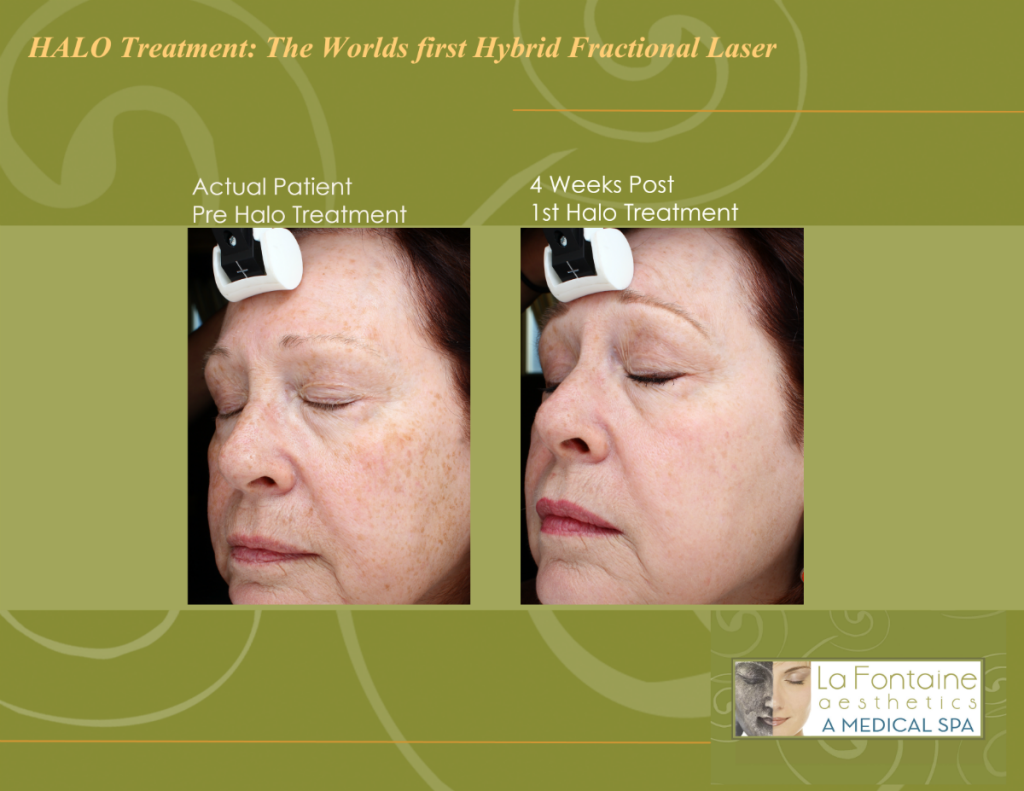 What to expect after treatment
Immediately after your treatment, we will apply a soothing cream and sunscreen to the area treated. Redness and swelling is common and we expect it after your treatment. The area will feel extremely warm for up to 24 hours. A cold compress will help with that. We carry Oxygenetix, a post procedure make up for redness that can be applied if necessary and is available for in office purchase.
On the second or third day you will start to see tiny brown spots and the skin will look bronzed. This is the process where the treated tissue is working it's way out so new, fresh skin can grow. During this time and each day during the healing period, your skin will feel a different grid of sandpaper feeling texture. Between the 5th and 7th day your skin should flake and peel off.
Your skin may still be pink which is normal and will gradually resolve. It is crucial your wear sunscreen at all times if exposed to light.
See a full range of before and after photos by clicking here.