Forever Young BBL works to turn the clock around on your skin. Sound to good to be true? It was proven in a long-term clinical study!
Patients received 3-4 Forever Young BBL treatments a year over a course of a decade. At the end of the study, doctors judged the patients to appear 11 years younger than their actual age, in other words, they looked younger then when the study began.
You've heard about IPL, intense pulsed light, but Forever BBL is the newest technology when it comes to Broad Band Light treatments and we can't wait for you to try it at La Fontaine!
Intense Pulsed Light, or IPL treats your skin with one light pulse, while Forever Young BBL uses dual flash lamp technology, has finesse filters and adapters to properly treat those difficult to reach areas.
Why choose Forever Young BBL treatment for your skin
It isn't just a beauty treatment, it's a preventative regimen – possibly the best investment anyone can make in his or her skin. Both Men and Women with almost any skin type can protect themselves against the sun and environmental damage that adds up over time. This technology can actually have positive results at the molecular level in the skin, altering cells to have more youthful genetic traits.
What will happen during the procedure?
Your eyes will be protected with safety glasses/shields. You may feel a quick, warm sensation as the light is absorbed to the areas treated. Once treatment is completed, in most cases you are able to apply makeup, return to work and resume most of you activities immediately.
What should I expect after the treatment?
You may experience some redness that should resolve in a few hours. For pigmented lesions, you will see darkening of the lesion followed by fading and flaking off at a later stage. Your treated skin will feel smoother, pores will be less noticeable, and sunspots or uneven pigmentation will fade.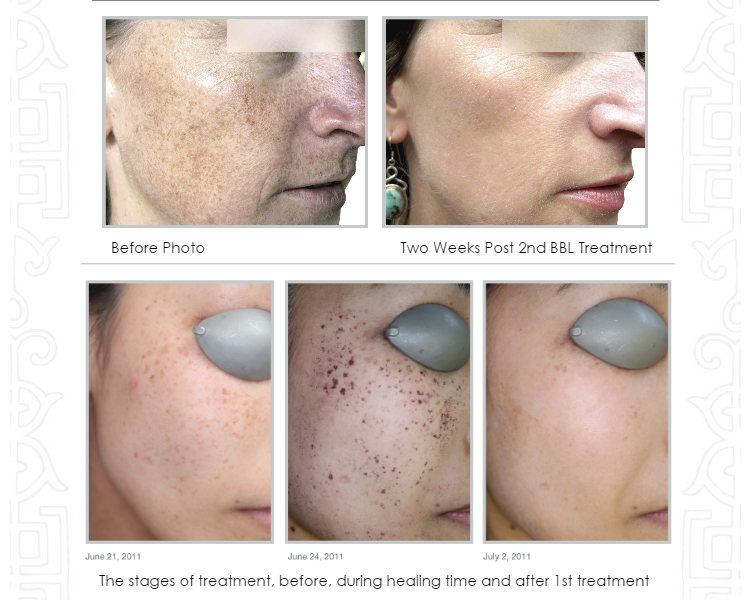 Results depend on your condition, the number of treatments, and the area treated. Adrian, our amazing Aesthetician and Laser Technician with provide you with complete information about the post treatment care and results.