Coolsculpting is the latest technology when it comes to fat reduction. What's great about the procedure is, it's non-surgical, non-invasive and treats those areas with stubbon fat – belly, chin, love handles, abs, thighs etc…
In fact, most people with busier lives and/or children (or both) love this procedure because of the results and how little downtime is involved. Celebrity Molly Sims is such a fan, she became an ambassador for the treatment. Enjoy her video below to learn more about our favorite fat reduction technology at La Fontaine Aesthetics.

In the weeks and months following your procedure, your body naturally processes the fat and eliminate these dead cells. Once the treated fat cells are gone, they're gone for good.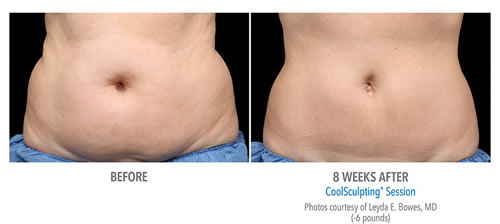 Coolsculpting technology comes down to science. Fat cells freeze at higher temperatures than surrounding tissues. This revolutionary technology safely delivers precisely controlled cooling to gently and effectively target the fat cells underneath the skin. The treated fat cells are crystallized (frozen), and then die. Over time, your body naturally processes the fat and eliminates these dead cells, leaving a more sculpted you.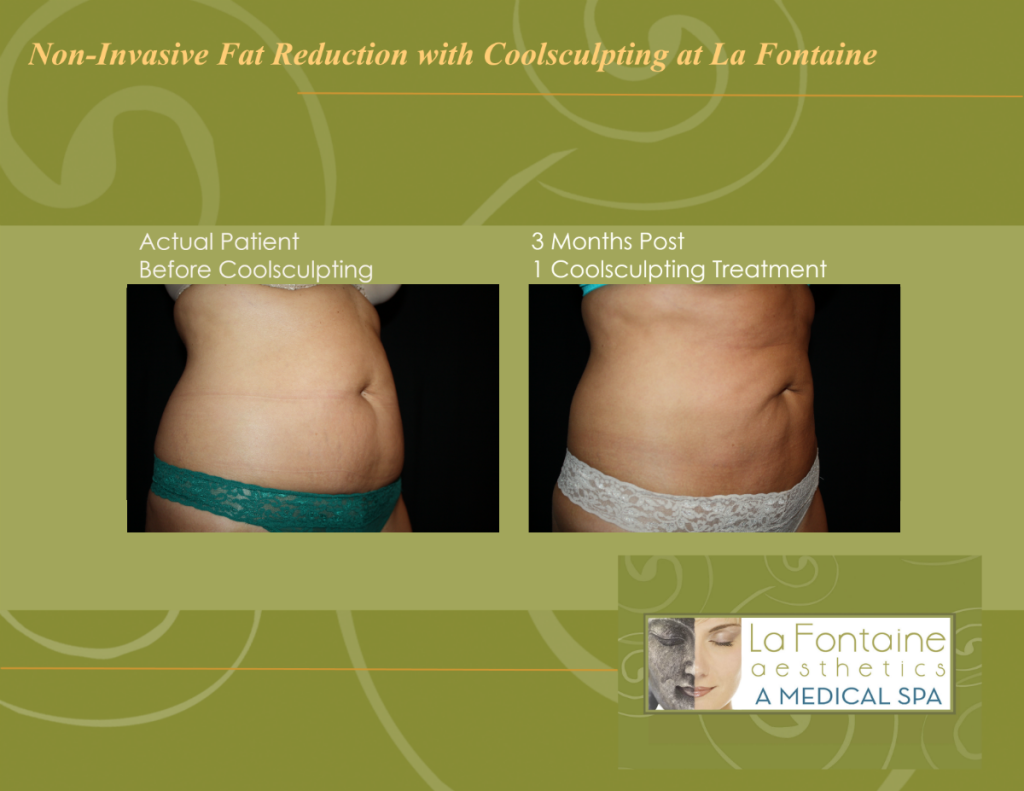 Results and patient experience may vary.
Why Choose La Fontaine Aesthetics for CoolScupting?
Because our technician is so skilled and we have so many happy patients, we opted for two devices, which means you can treat two areas at once if you are interested.
Dr. Ken Oleszek founded La Fontaine Aesthetics over a decade ago – a long standing and well-respected medical clinic in the community. So you can sit back and relax when you arrive to La Fontaine, our highly trained staff is here to tend to your needs.
We recognize patients need options to ensure they are getting the treatment that is best suited for them – The Vanquish™ device, minimally-invasive Tickle Lipo liposuction and ThermiTight for skin tightening are all available in our office as well. This means we have many options to customize treatments that meet your needs.


Frequently Asked Questions

QUESTION: Am I a good candidate?
ANSWER: Good candidates have noticeable bulges in certain areas they'd like to get rid of. CoolSculpting is specifically designed for those who have unwanted fat that resists diet and exercise. Unlike gastric bypass surgery, this technology is not a weight loss solution for people who are obese. It is, however a non-surgical alternative to liposuction.

QUESTION: How much does CoolSculpting cost?
ANSWER: This varies depending on your areas of concern, the number of sessions needed, and your ultimate goals. We will help create a customized treatment plan, in person, that's tailored to your body, your goals, and your budget.

QUESTION: Where does the fat go? Are the results permanent?
ANSWER: Once the treated fat cells are crystallized (frozen), your body processes the fat and eliminates these dead cells. Once the treated fat cells are gone, they're gone for good.

QUESTION: What does it feel like?
ANSWER: As the cooling begins during the first few minutes, you will feel pressure and intense cold. This soon dissipates. Many people read, watch videos, work on their laptop, or even take a nap during their treatment.

QUESTION: Is CoolSculpting safe?
ANSWER: CoolSculpting is FDA-cleared for the flank (love handles), abdomen, double chin and thigh. With over one million treatments performed worldwide, it is proven to be a safe and effective treatment for non-surgical fat reduction.

QUESTION: Are there any side effects?
ANSWER: During the procedure you may experience deep pulling, tugging, pinching, numbness or discomfort. Following the procedure, typical side effects include temporary numbness, redness, swelling, bruising, firmness, tingling, stinging and pain. You should not have this procedure done if you suffer from cryoglobulinemia or paroxysmal cold hemoglobinuria.

QUESTION: When will I see results?
ANSWER: You may start to see changes as quickly as three weeks after your treatment, and will experience the most dramatic results after two months. But your body will still flush out fat cells and continues doing so for up to four to six months after treatment.

Contact us today for a free consultation to see if CoolSculpting is right for you! We can be reached by phone at 303-355-4772 or us our contact form to ask a question.