La Fontaine Aesthetics in Cherry Creek offers a variety of Chemical Peels to the Denver area! Chemical peels work by removing the damaged outer-most layers of the skin to improve texture, tone and clarity. This process reveals a healthier complexion. Peels are a great treatment for all skin types, and with proper treatment planning can benefit uneven pigmentation, acne blemishes, minor scarring and fine lines and wrinkles.
Deeper peels on a treatment plan may also aid in removing precancerous skin growths. Adrian, Denver's best Aesthetician and Laser Technician will formulate a treatment plan that is best suited for your skin type and lifestyle needs.
At La Fontaine we use a wide array of chemical peels to match our patient's desired results and their available down-time.
•Physician's Choice of Arizona (PCA) formulas are more mild skin peels.

After a series of 4-6 PCA peels, patients can typically expect excellent improvement of the texture and appearance of rough, dull, wrinkled or spotted skin. For the quickest results, we recommend peels every 2 weeks for the first 3 treatments, and then once every 4 to 8 weeks to maintain results.

PCA peels are 'modified Jessner's' formulations that effectively exfoliate with blends of lactic, citric and salicylic acids and resorcinol, while bleaching and inhibiting pigment production with kojic acid and hydroquinone (where indicated). Advanced retinols, peptides and growth factors are used to smooth lines and wrinkles. With all these options – PCA peels afford the aesthetician the greatest flexibility in individualizing the treatments and maximizing the results.
• The Advanced Anti-Acne treatment with the Blu-U light therapy
• The Advanced Anti-Pigment treatment
• The Advanced Anti-Aging treatment with retinols, peptides and  growth factors with OmniLux red.
For a more advanced Chemical Peel in Denver, we choose VIPeel.
VIPeel – skin transformation easy and affordable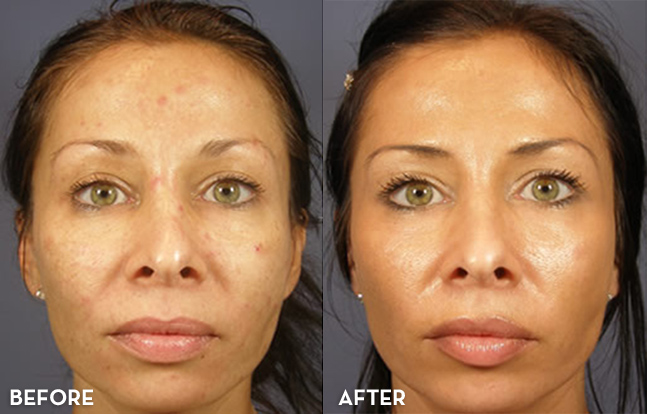 La Fontaine now offers the VIPeel, a stronger grade chemical peel that produces quicker results with less overall cost. If you can handle several days of "peeling like a snake" (as Dr. Oleszek describes it), then this is an affordable option to jump start your treatment for sun damage, skin pigment and acne. Layers of skin will be exfoliated to reveal your clear, radiant and supple skin. Using a synergistic blend of gentle yet powerful ingredients, the VIPeel provides superior results with improved comfort that is suitable for all skin types at an affordable price.
With proper treatment planning, the VIPeel can typically reverse the effects of sun damage, such as sun spots, fine lines and dull complexions, for our acne patients and for our patients with melasma. Often in conjunction with prescription Retin-A, we achieve the best results possible.
The treatment itself takes about 20 minutes and is much more comfortable than the other medium-depth TCA chemical peels we used prior. A post-treatment skin care kit is included in the price. In about one week you will enjoy your radiant new skin.
"Patients love the effects of the VIPeel, and often will plan months in advance to find those 3 days in order to peel" explains Dr. Oleszek. "We have a lot of teachers coming in at the beginning of their spring break or summer vacations." Dr. Oleszek further explains "And we have treated all skin types with the VIPeel and have had no side-effects. For its price, the VIPeel is the most 'bang for the buck."
We offer complimentary consultations, please call today to schedule your next appointment, 303-355-4772