AquaShape™ is an innovative liposuction and fat transfer procedure that removes unwanted fat and then uses this natural fat to restore natural contours to the face, hands, breasts and buttocks. Unlike temporary fillers and implants, AquaShape™ uses your own natural fat to achieve long lasting results in a safe, simple and effective out-patient procedure with minimal downtime..
How can the AquaShape™ procedure help me?
Whether its removing unwanted fat permanently or using your fat as a natural filler, the AquaShape™ procedure can help. As we age, our skin changes, both at the surface and underneath. Skin becomes less elastic, collagen production slows down, and there's a reduction in the natural fatty tissue that helps to give the body and face its youthfulness and shape. The AquaShape™ procedure allows you to use your own natural fat in order to restore youthful fullness in the face, hands, breasts and buttocks. During the AquaShape™ procedure, excess fat is harvested and removed from targeted areas of your body where it is unwanted and not needed. Once removed it can then be re-injected into areas where extra fullness are desired and can help reduce the signs of aging. AquaShape™ can help enhance volume in your face and hands as well as help lift and contour your breasts and buttocks, giving you a smoother, more rounded shape.
How does AquaShape™ work?
Thanks to the body-jet® liposuction and fat transfer device, doctors are able to harvest natural fat cells through a gentle process using water. These cells remain intact and are ready for immediate transfer. Your natural fat is then re-injected into the face, hands, breast and buttocks to restore youthful contours. AquaShape™ uses your own natural fat cells, minimizing the risk for infection and providing long-lasting, natural-looking results.
How is AquaShape™ different from cosmetic injectables, collagen and implants?
The AquaShape™ procedure uses your body's natural fat to improve contour and restore fullness, thus the results are more natural looking and long lasting. When using temporary hyaluronic acid fillers and collagen injections to help smooth wrinkles and improve fullness in the face and hands, patients must return frequently for new treatments to maintain results. That means you could need treatment as often as every six to nine months. If you're interested in enhancing your breasts and buttocks, AquaShape™ allows you to use your own natural fat to improve and augment your breasts and buttocks. AquaShape™ fat injections can give breasts and buttocks a softer, smoother and more natural-looking appearance. Whether you're seeking to improve your face, hands, breasts or buttocks, AquaShape™ uses only your own natural fat cells for rejuvenation, not synthetic or foreign materials, minimizing the risk for infection.
What kind of results can I expect with AquaShape™?
Since AquaShape™ uses your own natural fat you can expect natural-looking and long-lasting results. Click here to view before and after photographs.
How long until I can return to my normal activities after AquaShape™?
Individual recovery depends on many factors, including how much fat is removed and what parts of the body are treated. In most cases, patient downtime is minimal, and many patients may return to normal activities the same day. You should discuss with your physician what to expect in your situation.
This procedure is performed under local anesthesia* and most patients are back to work and resume normal activity in just days. Our patients are able to walk out of their body contouring procedure and usually continue on their normal schedule.
Using a pulsating water spray to dislodge fat, this technique of liposuction has many advantages. AquaShape by Body-Jet® Liposuction is more gentle than traditional liposuction. It's less invasive, recovery time is faster and there's also the ability to transfer fat into the breast and/or the face.
Many patients often ask if the procedure is permanent. Fat cells that are removed do not grow back. Typically, any post procedure weight gain is distributed elsewhere on the body.
Because of the gentler technique, AquaShape is not used for larger areas of unwanted fat. At La Fontaine, Dr. Ken Oleszek uses Tickle liposuction to treat larger areas.
*Varies based on individual doctor treatment protocols and individual case requirements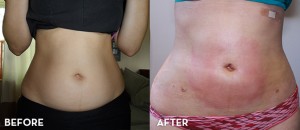 If you have questions about AquaShape by Body-Jet®, please schedule a complimentary consultation with Dr. Ken Oleszek, 303-355-4772