SkinPen is newest micro-needling technique used at La Fontaine Aesthetics. We found that SkinPen is favorably comparable to DermaPen® and MicroPen™. The SkinPen device helps improve the following:
Sun damaged skin and fine wrinkles on the face
Acne scars
Stretch marks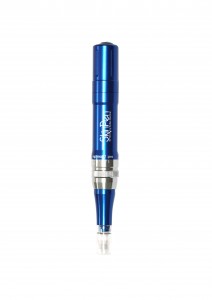 With minimal down-time and pain the SkinPen uses tiny needles to stimulate new collagen, break up acne scars and stretch marks.
Six monthly treatments are generally needed for optimal results. We use powerful topical numbing medicine that makes the SkinPen treatment virtually painless. The treated area will be red and swollen for less than one day after treatment.
We have found this to be one of the most effective treatments for stretch marks.
Acne Scars
Acne scars are a common problem we see at La Fontaine. We have multiple options for acne scar treatment. SkinPen improves acne scars around 50%.
The most effective treatment for acne scars is the MiXto fractional CO2 laser. An improvement of 70% to 80% can be seen with only 1 to 2 treatments, but down-time is from 5 to 12 days.
For individual scars, subcision is an effective treatment. Subcision is often combined with the other treatments of SkinPen or the MiXto Fractional CO2 treatment.
The optimal patient that wants to improve their skin with minimal down time should consider having the Vampire Face Lift procedure in combination with the SkinPen treatment. Palette rich plasma is applied after the SkinPen treatment. The strong growth factors further stimulate collagen and decreases fine lines.
Please contact us for a complimentary consultation and personalized treatment plan. 303-355-4772