Necks and chests are common areas that show the effects of sun damage and wrinkles that come along with aging.
At La Fontaine Aesthetics, for our neck and chest rejuvenation treatment, we use our IPL (photofacial) device to treat sun damaged skin. The IPL targets sun spots and broken capillaries to rejuvenate the skin on the neck and chest.
Our award-winning laser, the MiXto Fractional CO2, can improve the improve the necklace lines (or horizontal lines of the neck), in addition to tightening of the skin. The MiXto also can decrease the wrinkles that appear in the décolleté (cleavage area).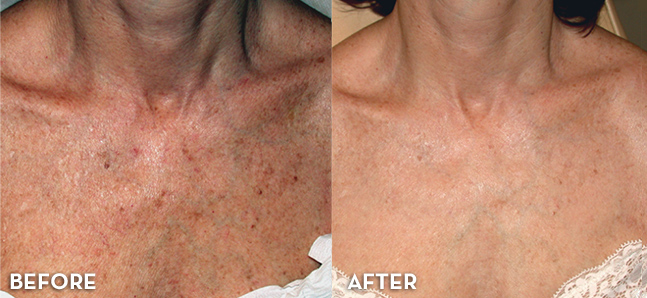 Usually multiple monthly treatments are needed and are associated with a few days of redness and/or swelling.
To schedule a complimentary consultation with Dr. Ken Oleszek, call 303-355-4772, or click here to book online.